Opportunity
Building a strong office culture that helps current employees (called PSIers) and future candidates feel excited about working at PSI.
Key Insight
Inclusion was an important design principle to ensure the range of events would appeal to new hires as well as PSIers with decades of service. I led my design process with two primary questions:
✔ How might we make PSI the *healthiest* place to work?
✔ How might we make sure everyone feels *included* in the fun?
Screensaver displayed on all office network computers: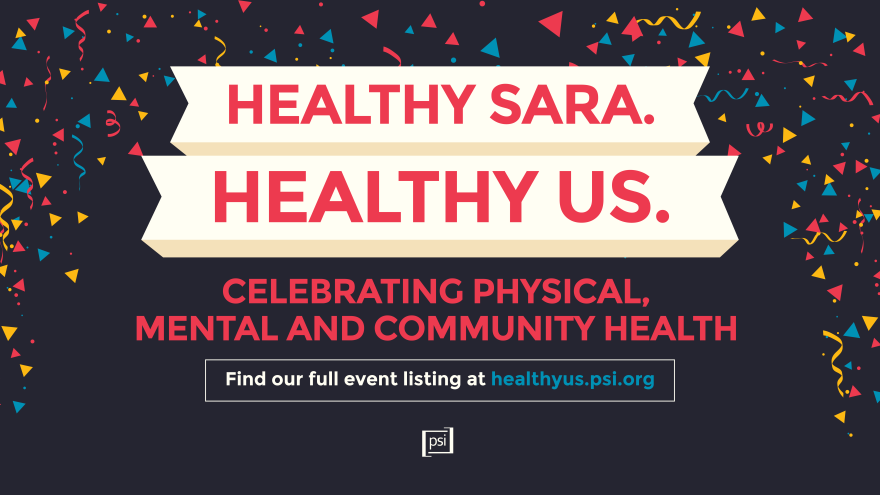 Quick Wins
To get started, I first considered the organizational mission: "PSI makes it easier for people in the developing world to lead healthier lives and plan the families they desire." Employees, who self-identify as PSIers, often refer to the beneficiaries they serve in more than 50 countries as "Sara"; giving her a name helps PSIers to take a user-centered approach as they design health programs. Under such an inspiring mandate, my primary goal of promoting employee health in the workplace was ensuring PSIers could continuous to serve Sara well.
I met with departments across the organization to solicit feedback for legacy events and crowdsource new ideas. Building on events that were already a part of the culture, I launched a 2017 calendar of events with the tagline, "Healthy Sara. Healthy us." Together, the events celebrated multidimensional health and promoted physical, mental and community health at headquarters in Washington, DC.
Many events were held at lunch time to accommodate parents that had to leave work on-time to care for their children. Some events focused on the individual, like massage and meditation, while others focused on the group, like making your own Vietnamese summer rolls for Asian American Heritage Month.

Big Wins
The refreshed corporate wellness program contributed to five point increase in culture/values score on annual culture survey through CEB/Gartner (2016 score improved from 7% to 12% above benchmark in 2017).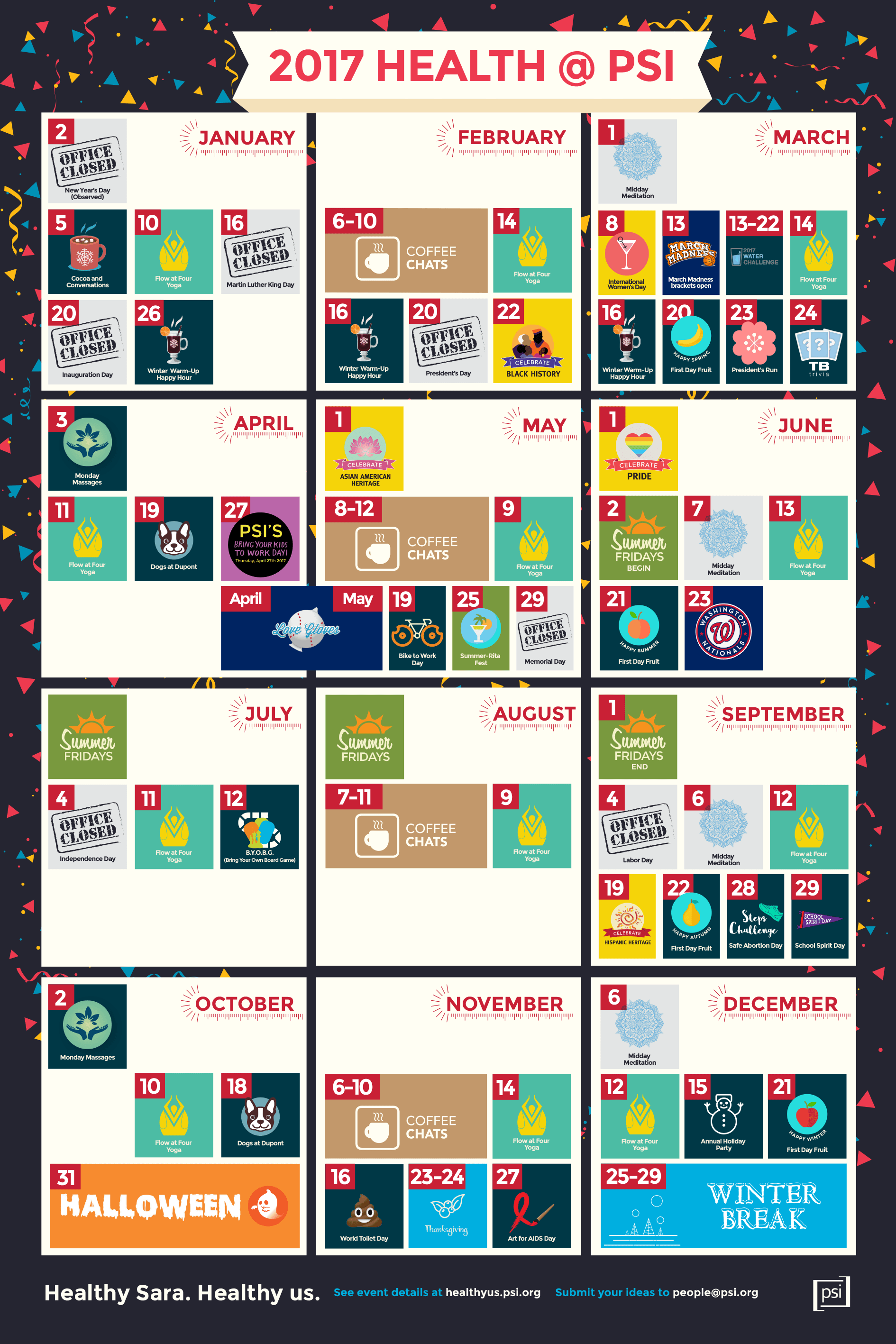 Corporate Wellness Events
Tracking attendance numbers showed three levels of participation: ~5% of staff (15-20 people), ~10% of staff (30-40 people), ~30% of staff (80-120 people).

PHYSICAL HEALTH
✔ Love Gloves Softball Team (5%)
✔ Flow at Four Yoga (5%)
✔ Water Challenge (30%)
✔ Steps Challenge (30%)
✔ First Day Fruit (30%)
✔ Monday Massages (30%)
✔ Bike to Work Day
MENTAL HEALTH
✔ Midday Meditation
✔ Dogs at Dupont
✔ Work from Home Days
✔ Federal Holidays
✔ Thanksgiving Break (two days)
✔ Winter Break (one week)
✔ Early Release Days
✔ Summer Fridays
COMMUNITY HEALTH
✔ Cocoa & Conversations
✔ Winter Warm Ups
✔ Coffee Chats
✔ March Madness Brackets
✔ Bring Your Kids to Work Day
✔ Summer-Rita Fest
✔ Washington Nationals Game
✔ School Spirit Day
✔ Halloween
✔ Annual Holiday Party
CELEBRATING DIVERSITY
✔ Black History
✔ Asian American Heritage
✔ Hispanic Heritage
✔ Pride Month
"HEALTHY SARA"
✔ International Women's Day — highlighting the Family Planning & Reproductive Health teams
✔ TB Trivia — highlighting the work by the HIV/TB team
✔ World Toilet Day — highlighting the work of the Malaria & Child Survival Department team
✔ Art for AIDS Day — highlighting the work by the HIV/TB team
___
Learning Forward
In tracking participation metrics and collecting qualitative feedback, I made several improvements to the 2018 calendar:
✔
Staff prefer an "event month" over one repeating monthly event.
For example, rather than planning Flow at Four Yoga on the second Tuesday of the month, PSIers preferred the momentum of weekly yoga for an entire month.
✔
The most important events were those that upheld company values.
"Bike to Work Day" and "Bring Your Son or Daughter to Work Day" earned the most verbal appreciate form staff — well, besides chair massages which were the most popular event. PSIers appreciated knowing their company was on par with other companies acknowledging these special days.
✔
Take staff up on their offers to host events, since they'll recruit colleagues to help.
 Events like Global Health Olympics, PSI's Got Talent and FIFA World Cup Viewing Party were all ideas from staff.
✔
Staff love competitive events where anyone can participate.
 The "Steps Challenge" was THE most popular event, followed by the "Water Challenge." Both were easy to execute by simply providing "tracker" posters where staff could fill in the names of each team member and their daily participation. A volunteer tallied up results from all the posters to announce winners.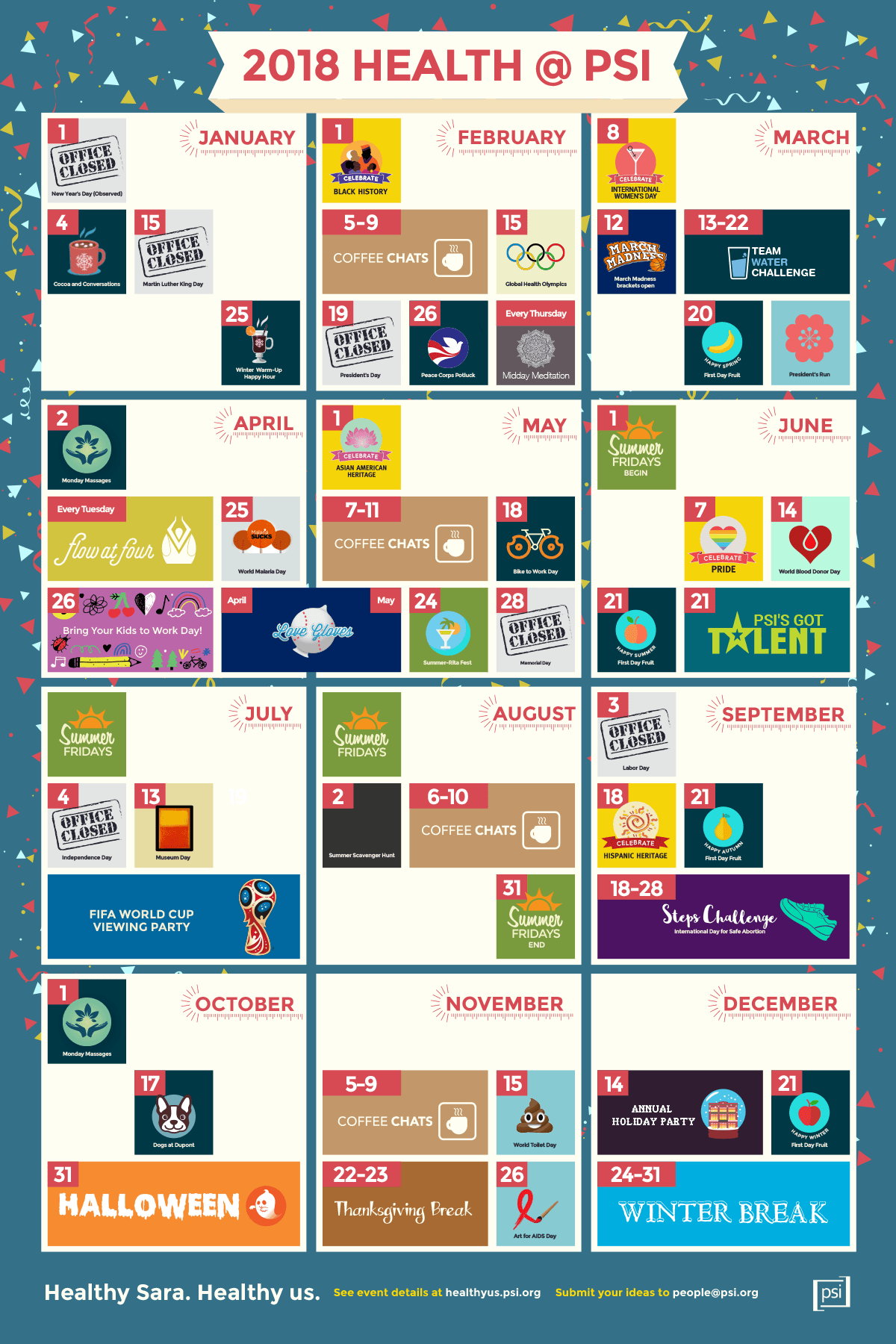 Screensaver displayed on all office network computers: