Frustration
A global NGO that operates in 55+ countries believes that defining its knowledge management strategy will enable it to routinely capture and curate program insights to accelerate program cross-learning and thought leadership.
Key Insight
The issue of widespread knowledge inequity was best summarized as:
"what" you know depends on "who" you know
. Staff were commonly "self-reliant but isolated."
Staff in select job functions have a more integral role in knowledge management; identify these staff and train them to promote knowledge management discipline.
Quick Wins
Using 33 qualitative interviews with junior, mid-level senior staff to gain a wide understanding of what is and isn't working around "finding information and collaboration", developed five distinct archetypes (Advisor, Decision Maker, Lookout, Navigator, Problem Solver) and journey maps that addressed the five most common pitfalls as well as the path to success:
1. We rely on the knowledge in our heads
2. We waste time hunting for information and starting from scratch
3. We duplicate effort by unknowingly working on the same thing
4. We tailor and deliver assistance one-to-one, rather than packaging guidance
5. Internal and external complexities slow us down
Leveraged in an internal communications campaign — brown bags, newsletters, posters — in English, French, Spanish and Portuguese to spur discussion and behavior change.
Big Wins
Narrowed in on two archetypes — Advisor and Problem Solver — and worked with HR to rescope the standard job descriptions to ensure current and future staff would have knowledge management functions built into their responsibilities and roles.

Five Archetypes & Journey Maps
On each map, you'll see an icon, starting point, a statement for "I need" and "I do" as well as good outcome and a better outcome. Below are detailed explanations of each archetype and journey map.
DECISION MAKER
Leading teams through complex decisions and change
The icon for a decision maker is a plane.​ You provide strong leadership, emotional support and guidance for your teams.​ Your starting point is that you need timely information to assess options and set priorities for your team.​ In order to do this, you need a 30,000-foot view. This high level of information allows you to determine which path forward is the right path.​ To gain this 30,000-foot view, you ask your teams and peers for evidenced-based recommendations, giving you the opportunity to synthesize information into insights.​
After this process, you have rich knowledge in your head. And holding all knowledge in your head is good, but there is a better way.​ When you write down information and show-and-tell the way forward to your staff, you transfer critical knowledge that helps them to take action. So rather than hold all knowledge in your head, you can help improve institutional knowledge management by documenting your decisions and making those documents accessible to staff.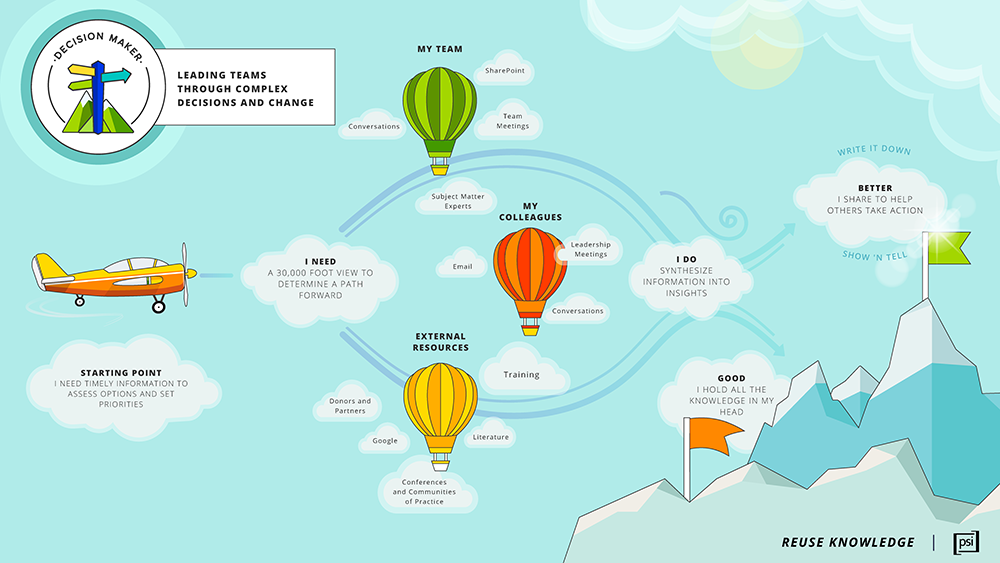 NAVIGATORS
Charting the course and guide the way
The icon for a navigator is a boat.​ You often own specific organizational initiatives and may create, improve or implement those initiatives. Your starting point that you are tasked by your manager to map the way forward on a specific initiative.​ To accomplish this, you need to understand what we have done before and what others have done before. You gather information to avoid starting from scratch.​
Once you gather that information, you synthesize it and begin creating a prototype.​ Typically, you would present your prototype to leadership for approval. But as we shared in our formative research insights, it is far too common for employees to work on the same initiative without realizing it.​
That's why the better way to work is to share what you're working on with other navigators and find collaborators. If other teams in the organization can benefit from your initiative, we can save time and energy by centralizing efforts.​​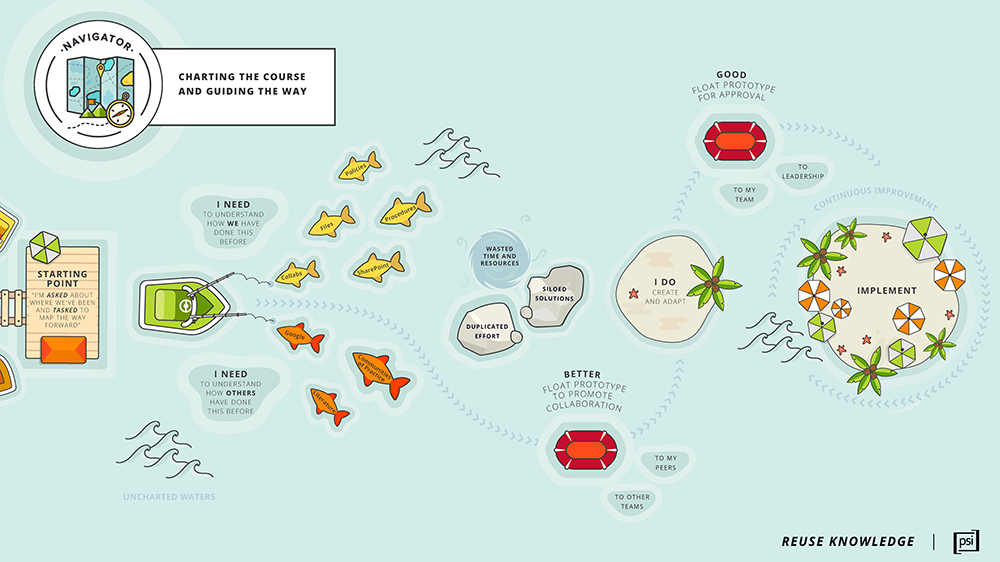 PROBLEM SOLVERS
Piecing information together to create searchable answers
The icon for a problem solver is a motorbike.​ Your starting point is when someone comes to you and asks "Can you find something?" or "Can you figure out something?"​ To move forward, what's most important is that you're able to begin hunting and gathering information by clearly understanding the problem.​
You often go through a series of steps to find answers. You check and see what you have, what your team has and what other teams have. You often encounter road blocks because no one can find the information, the person that had the knowledge no longer works on staff, or you send an email and never get a reply.​ But when you are successful, you happily report back the answers, which is great.​
The way you can help improve knowledge management is by considering who else might need the same answers you created and adapted. You can benefit from talking with other problem solvers and sharing context for the answer you've created.​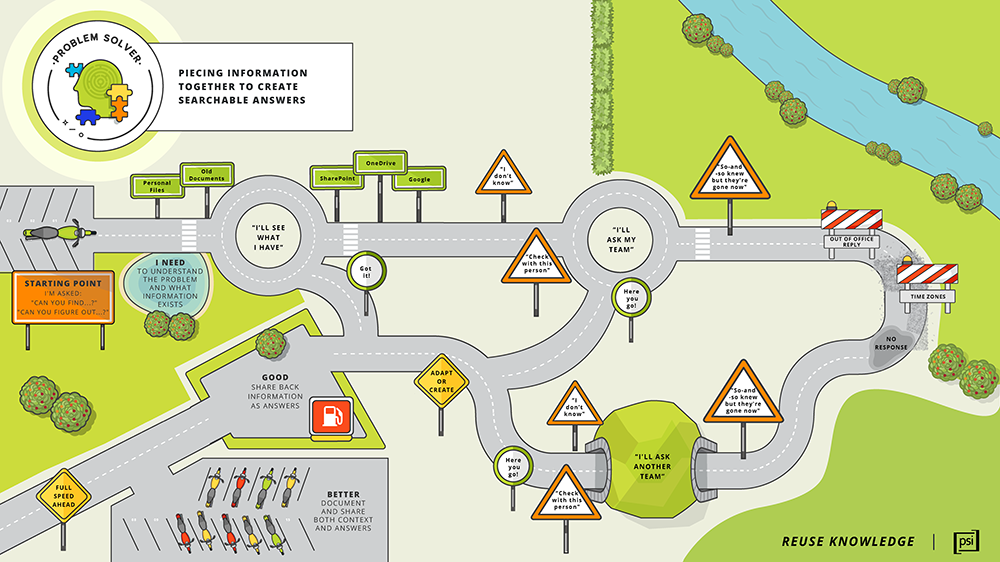 LOOKOUT
Guard Sara's* interests and uphold excellence
The icon for a lookout is a Land Rover.​ You primarily manage systems and staff.​ Your starting point is that you help PSI adhere to guidelines, uphold standards and deliver on goals. You familiarize yourself with terms, conditions, policies and procedures to ensure we can follow the rules.​ You need to effectively and efficiently manage people and data, which is a big job.​ To do this, you have to navigate complex systems and unforeseen challenges. You like use various software and technology to get your job done.​ You are proud of your work when you have timely and complete reporting.
As we strive to improve knowledge management, you can help by using the data you manage in our decision making. And you can help us find ways for continuous improvement, especially finding ways to more efficiently and effectively manage people and data.​
*Sara is the archetype of the beneficiary this global health NGO serves.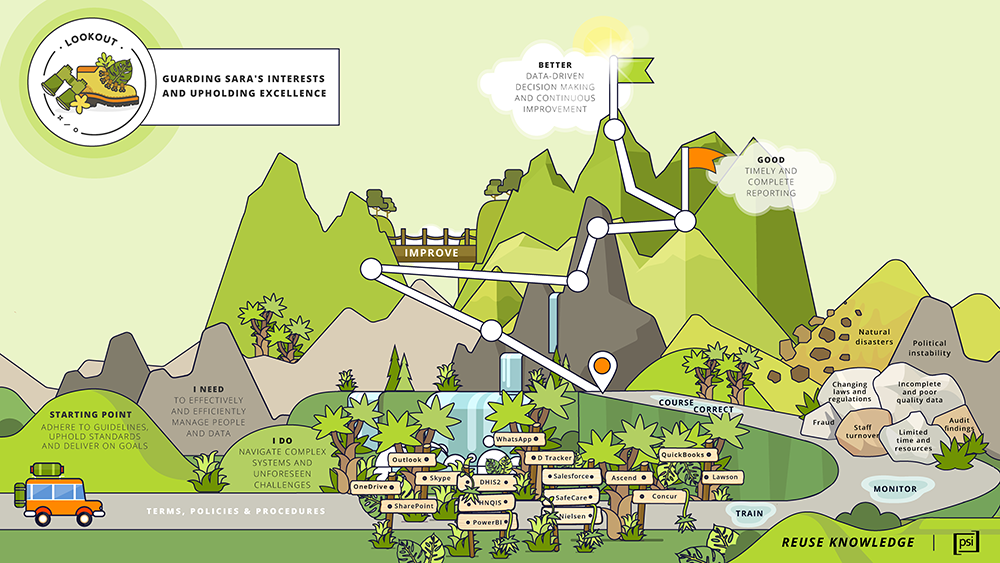 ADVISOR
Nurture the network and cross-pollinate model practices
The icon for an advisor is a bumble bee.​ Your starting point is when people reach out for your specific expertise and to receive technical assistance.​ Your day-to-day work is focused on gather and sharing model practices across the network, and you also represent PSI externally to support our thought leadership agenda. Much of your time is spent teaching others and troubleshooting problems.​ You are satisfied in your knowing that you have provided direct, tailored technical assistance.​
However, since there is only one of you, the specific way you can help us improve knowledge management is by documenting guidance and promoting peer-to-peer support. Documenting guidance makes the knowledge in your head accessible to others, and promoting peer-to-peer interactions expands the support network that each PSIer has access to.​